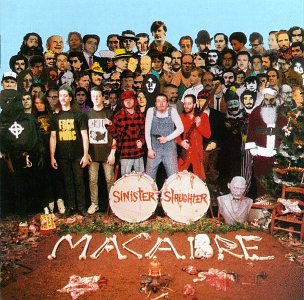 Minisaga aterrorizante contendo uma compilação das histórias dos *serial killers* mais famosos , incluindo Jeffrey Dahmer o carniceiro de Milwaukee.
1. Night Stalker (Richard Ramirez)
2. The Ted Bundy Song (Ted Bundy)
3. Sniper In The Sky (Charles Whitman)
4. Montreal Massacre (Mark Lupine)
5. Zodiac (Identity Unknown)
6. What The Hell Did You Do? (James Edward Pough)
7. The Boston Strangler (Albert De Salvo)
8. Mary Bell
9. Mary Bell (Part Two)
10. Killing Spree (Patrick Sherrill)
11. Is It Soup Yet? (Daniel Rakowitz)
12. White Hen Decapitator (Michael Bethke)
13. Howard Unrah (What Have You Done Now ?!)
14. Gacy's Lot (John Wayne Gacy)
15. There Was A Young Man Who Blew Up A Plane (Jack Gilbert Graham)
16. Vampire Of Dusseldorf (Peter Kurtin)
17. Shotgun Peterson (Christopher Peterson)
18. What's That Smell? (Jeffrey Dahmer )
19. Edmond Kemper Had A Horrible Temper ( Edmond Kemper )
20. What The Heck Richard Speck; Eight Nurses You Wrecked!
21. Albert Was Worse Then Any Fish In The Sea (Albert Fish)
rapidshare.com Mac_SS_uploadedbyBlackDahlia.rar